Sunday, February 21, 2021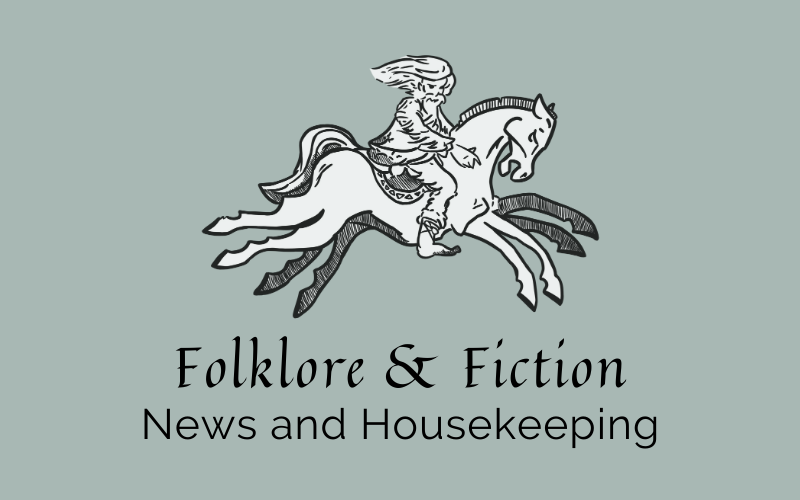 Now that the Folklore & Fiction newsletter has successfully transformed into a dispatch and podcast, I have a bit of news to share with you and a bit of housekeeping to do for you. On tap, news about an upcoming theatrical production and a professional webinar, a handy list of the Folklore & Fiction genre series editions, a question about podcasting the archives, and a new copyright statement posted to my website.
Upcoming Podcast Radio Play and Webinar
I've just turned in the first draft of "The Belt and the Necklace," a radio play commissioned by the Odyssey Theatre in Ottawa for its new Wondrous Tales Podcast. These plays are contemporary adaptations of traditional folk tales produced for audio by professional actors and sound engineers under the direction of Laurie Steven. I can't wait to share this production with you, which will air sometime in the autumn of this year.
In other news, the Canadian Authors Association and SF Canada will be collaborating to offer a series of professional webinars for writers this year, and I'll be participating in the series with a webinar on folkloristics for storytellers. These will be free because of the financial pressure COVID-19 is placing on the writing community, but space will be limited. I'll post about it here when my webinar is scheduled, so you can reserve a place if you'd like to attend.
Folklore & Fiction Archives
Longtime readers will already know that I've covered quite a bit of folkloristic ground in the last two years, but I'm aware that new readers might not have time to dig through the website archives. So I thought it might be helpful to provide you with a handy list of topics in the genre series linked to their homes here on my website. Here you go:
2019
January 2019: Introduction to Folklore Genres
February 2019: What is a myth?
March 2019: What is a legend?
April 2019: What is a memorate?
May 2019: What is a personal experience narrative?
Summer Solstice Newsletter 2019
July 2029: What is a ballad?
August 2019: What is a märchen?
September 2019: What is a fable?
October 2019: What is a tall tale?
November 2019: What is a ritual?
Winter Solstice Newsletter 2019
2020
January 2020: What is a rite of passage?
February 2020: What is a superstition?
March 2020: What is a charm?
Folklore & Fiction Supplement: Keeping a Journal in Uncertain Times
April 2020: What is a curse?
May 2020: What is a folk custom?
Summer Solstice Newsletter 2020
July 2020: What is material culture?
August 2020: What is a conspiracy theory?
September 2020: What is language and verbal lore?
October 2020: What is child lore?
November 2020: What is performance?
Winter Solstice Newsletter 2020
Podcasting the Archives
Would it be useful to you for me to record any or all of the above newsletters as a podcast? If so, do you have a favourite you'd like me to cover first, or would you prefer I tackle them in order? Please let me know your thoughts on this. You can write to me at folkloreandfiction [at] csmaccath.com, and I'd very much appreciate your feedback.
New Copyright Statement
Finally, I'm hearing from students who use Folklore & Fiction materials in their assignments, which is great! I'm glad people find my work educational. I'm also seeing elements of my work turn up online without attribution in the work of other people, which is not so great. In an effort to address both ends of the spectrum, I've prepared a copyright statement/usage guide and published it on my website. You'll find it here: https://csmaccath.com/copyright

That's all for now. Thanks so much for your time! I'll be back in a week and a half with your regularly-scheduled Folklore & Fiction dispatch and podcast.